Happy Valentines!
So January has flown by and we are now into February, the month of luurve! I have decided to embrace this fact, as really is there any point fighting it!
As most of you know I tend to stick to a mainly paleo diet (no grains, diary or legumes, I also try to avoid sugar and processed foods too) and so I am always on the look out for new and scrummy recipes using different ingredients. This month I thought I would share an old favourite, coconut pancakes, whenever I go to stay with my Dad we always make these!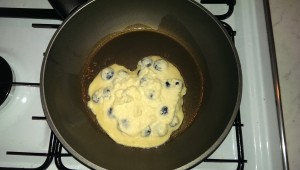 Coconut Pancakes (per person):
1 Egg
2Tbsp Coconut Oil
1Tsp Baking Powder
Roughly 2Tbsp Coconut Flour (add it slowly so that the mixture doesn't go too dry)
Roughly 2Tbsp Coconut Milk (again use your judgement here the mixture needs to be moist)
Handful fresh/frozen blueberries
Mix all the ingredients together and add the mixture to some heated coconut oil in a frying pan. Cook slowly on both sides until you are happy it is cooked (can take 20mins or so). Pop onto a plate and pour over some maple syrup or your choice of topping. Delicious!
If you are on the look out for a present for next weekend why not get a gift voucher and give some "me" time to that special someone. Remember for new clients a 75mins massage is only £30 so give me a call/text 07814 019180 or email lori@studio7therapies.com
I would love to hear from you so head over to my Facebook Page or follow me on Twitter and let me know how the pancakes turn out!
Health and happiness
Lori