It has been an age since my last newsletter so I hope you are well and the year is treating you to some lovely things. As quite a bit has happened in the last 7 months I thought it would be helpful to bring you up to date with what is new at Studio 7!
New at Studio 7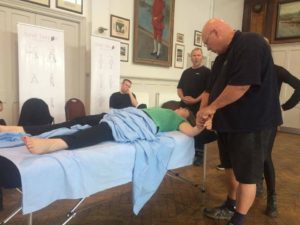 Advanced Raynor Massage Course: I attended the advanced course in May with Brandon Raynor himself and was blown away by the new skills I got to add to my toolbox. If you have seen me since May for a massage I have no doubt tried to tackle some of your tension with chop sticks (!) but I have also had a subtle shift in focus during my massages which has helped me give a better treatment (so I hope you agree!). Brandon has a ton of videos on YouTube so feel free to check them out!
Teaching: As well as my love of learning you will no doubt be aware I am passionate about teaching too and enjoy helping Dave Taylor teach Raynor Massage in Putney at regular intervals, Jan, Apr, May, Aug so far this year. We get great feedback from the students and I truly love watching people progress over the week(s) to fantastic hands on therapists. Roll on October!
Laundry: As you can imagine I get through a fair amount of laundry during a week and so I decided to switch my washing liquid to a slightly more environmentally friendly version, "Ecover", which I am really pleased to say is doing a fabulous job with whites, towels and general oil! But before I turn into some cheesy advert for washing liquid I just wanted to let you know, I am always looking to reduce my impact on the environment and so I am always open to any new suggestions you might have.
Mindfulness: And lastly I am currently taking a 6 week course in mindfulness which is proving invaluable for me day to day and with Craniosacral clients too. As a few people have expressed an interest please take a look at Marcelle's website, Brain Reframe, as she is an excellent teacher and solution focus hypnotherapist too!
I am sure I haven't mentioned all that is new at Studio 7, but that is a little highlight! As we move into Autumn I hope you enjoy the change in season and I look forward to seeing you soon!