Well as you may be aware the last four weeks have been pretty busy for me, but I have enjoyed every minute: 3 courses, a number of days of work squeezed in, Easter and the start of spring has hit us! The first course was two weeks of intensive training in Raynor Deep Tissue Massage by the river in Putney. I have been keen to learn this technique since July last year and I can honestly say it was well worth the wait! Not only did I get to do a massage every day, but I also got to have a massage myself every day, pure bliss!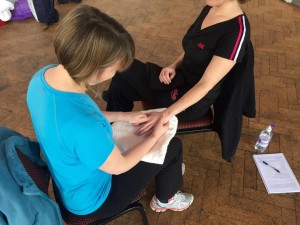 Raynor Massage was developed by Brandon Raynor, a Canadian who trained in Australia and has incorporated different techniques from a variety of Eastern and Western modalities, to really deliver a fantastic experience to his clients. The technique focuses on the muscular system as you might expect, but also has benefits to the skeletal system and subtle energy systems of the body. The massage itself is not performed as a routine as every one of us is different in our needs, but as a practitioner we look to find and remove tension wherever it presents itself in the body.
Because we are working at a deep level in the body tissues, the massage can feel slightly uncomfortable at times, but as your practitioner I work with you to understand your level of comfort during the session, after all this is your time! At times an emotional release can also occur as tension can be caused by repressed emotion, this is not unusual and will pass. Stored toxins can also be released leaving you feeling drained or shaky, but as the body works to eliminate them from your system you will feel great! All of these, despite sounding like things we would like to avoid are really positive effects of the massage and will mean you are likely to feel a real sense of deep relaxation (the origins coming from "re" meaning to bring back and "lax" meaning loose).
I am truly excited by this new learning of Raynor Massage as it fits well with my view of the world and is just a fabulous massage to receive! If you would like any more information about Raynor Massage or would like to book an appointment please call me on 07814 019180, email me at lori@studio7therapies.com or check out my Facebook Page.
Wishing you much springtime joy!
Health and happiness
Lori
P.S. If you are thinking about learning some Raynor Massage skills yourself then head over to Dave Taylor's Massage Training to see when the next course is!